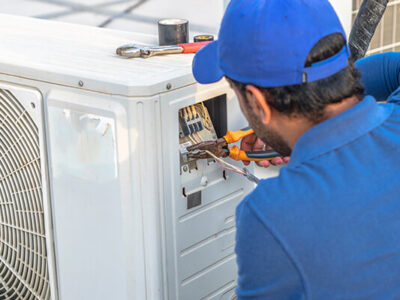 5 Reasons You Need an HVAC Maintenance Plan
The HVAC system in your home is a huge investment. That's why it's important to make sure that it's always in good working order. Having an HVAC maintenance plan is a great way to keep your system running at peak performance and avoid costly repairs down the road. Here are 5 reasons you need to consider getting an HVAC maintenance plan:
Early Problem Detection
When it comes to HVAC systems, early problem detection is crucial. It means catching potential issues before they become a major repair bill or cause your family serious health risks. It also means avoiding problems that could lead to expensive replacements or repairs down the road, like carbon monoxide leaks. The good news is that smart analytics can be used to detect faults and problems in their earliest stages. This enables technicians to prevent breakdowns and reduce energy usage by 5-15%. This is a great advantage to anyone who wants their home or office to operate at peak efficiency and minimize their monthly utility bills. Especially if you have a young family or live in a climate where weather can be unpredictable, having an HVAC maintenance plan is essential to ensuring your system runs at its best.
Improved Energy Efficiency
When it comes to heating and cooling your home, it's important that you have a system that can operate at peak efficiency. This can reduce your energy bills and keep you comfortable year-round. HVAC systems often require periodic inspections and maintenance to keep them running at optimal performance. Performing these tasks on a regular basis can help you save money on your energy bills and increase the lifespan of your HVAC system. When it comes to the air conditioning portion of your HVAC system, one of the most important steps is cleaning the coils. This ensures that the coils are free of dust and other debris that can reduce airflow and affect your system's effectiveness.
Priority Service
When you sign up for a maintenance plan, you get priority service when it comes to HVAC issues. This is a big deal when you need air conditioning or heating urgently and want to avoid waiting in line for an appointment. A maintenance plan can also save you money in other ways. For example, many plans offer discounts on diagnostics and repairs that you might not otherwise get. In addition, most plans offer perks for joining the maintenance program, such as discounted rates for diagnostics and emergency services on weekends and holidays. This is especially important if you have young children or elderly family members who are prone to heat exhaustion in extreme temperatures.
Discounts On Repairs
When an HVAC maintenance plan is in place, you can get discounts on repairs that you might otherwise have to pay a lot for. Typically, these savings will come in the form of parts and labor discounts. These can add up to a substantial amount over time. Especially when you consider that most manufacturers require proof of annual maintenance before issuing an equipment warranty. Getting an HVAC service contract is one of the best ways to make sure your system stays in optimal condition and runs at peak efficiency for as long as possible. In addition, it can help you save money on energy bills year-round.
Maintain Equipment Warranty
Keeping up with annual maintenance of your equipment can help you avoid having to void your warranty in the future. Often, manufacturers will ask for documentation that your HVAC system has had routine maintenance performed, and neglecting this maintenance can have serious consequences. In many cases, your HVAC warranty can be void if you skip regular maintenance or use off-brand parts on your HVAC unit. For example, if you buy parts from an un-reputable company and install them on your unit, the manufacturer will not be able to guarantee that their product is working properly.